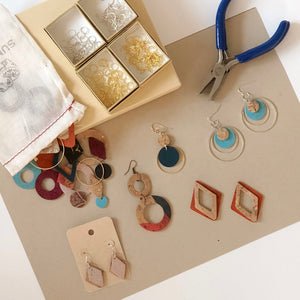 Own your style!! Wherever you go, people will want to know "Where'd you get that?!" and you get to say- "I made it!!" 
Perfect for the beginner or experienced jewelry maker, this kit includes all you need to create your own beautiful and unique earrings. 
Each DIY Jewelry Kit comes with:
An assortment of 32 beautiful cork fabric pieces in different shapes and sizes
16 metal embellishments to add another dimension to your creativity
Earring hardware to make up to 12 pairs (hooks, jump rings, and backs)
3 Earring Cards and 3 Muslin Bags for gifting
Instruction sheet and Design Inspiration sheet
2 Flat Nose Pliers (optional)
All kits come packaged in an eco-friendly, stylish box and make for great gifts!
No two kits have the same assortment!!